At Free Roof Quote we make the entire roof estimate process as easy as possible. We providing the best roofing quotes and roof repair services from qualified local roofing contractors.
We offer you a free roof quote, this is possible with the use of our free roofing calculator. The roofing quotes from our calculator will give you a close idea of what your new roof will cost and is for budgeting purposes.
---
Roofing Contractors that go abive and beyond to serve you.
Weather you are looking for a roofing contractor in a smaller city, or a large city like Los Angeles we can help you find quality roofing contractors to replace your roof or repair a leaky roof.
We are a national directory for roofing contractors and our main goal is to connect home owners to trusted roofing companies to preform the roofing work.
With todays technology, using Google Maps and our roof estimate calculator everyone can use our roofing calculator to adjust their roofing budget.
Many websites offer a calculator to help you figure out a budget for your new roof. These calculators are meant to be used for budgeting purposes before you get roofing quotes. As you start to look at their websites and their roofing calculators you realize some just do not work or are using old prices. Our roof estimate calculator actually works and has the latest roofing costs built into the calculator. Give it a try, it's free to use.
Budget is set and you are ready for a roofing contractor?
Once you are ready to get some written roof estimates from local roofing contractors just search for them with our search tool below. It will show you local roofers with star ratings and reviews.
---
How to measure your house for a new roof.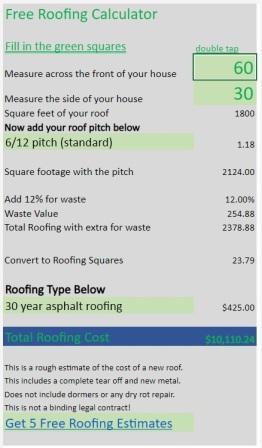 This process will help you measure your house and then put the measurements into our roofing calculator to get the cost, or a really close amount for your new roof.
If your house is 60 feet across the front by 30 feet down the side that equals 1800 square feet.
Next you have to allow for the pitch or angle of the roof. If the roof has a low slope like a 6/12 pitch you would multiply the total square feet of the roof by 1.18% this equals 2124 square feet to cover the house with this pitch.
Most roofing contractors allow 10% to 15% for waste, so we will go with 12% waste, 12% of 2124 is 254.88 square feet. add that to our running total of 2124 equals 2375.88 square feet.
All roofers will talk to you in "Roof Square" a roof square (100 square feet) is the total square feet divided by 100 so this roofing project is 23.79 roof squares.
This will get you the amount of shingles and underlayment you will need.
Next do you need to remove the old roofing? A roof tear off is priced by the pitch, how many layers and the surrounding areas of the house. I would not put more then 2 layers on a house.
Finally picking out the new shingles. so multiply the total roofing squares, times the shingle price per roof square.
Using our roof quotes calculator this roof will cost around $10,110.24.
Get a free roof estimate from a local roofer near me.
We have 3 ways for you to get your free roof estimate.
You can get a free roof estimate by using our

free roof estimating calculator.

You can use our

search and connect tool to find local roofers, then you can view their ratings and get their contact info and read the reviews on as many roofing contractors as you like. No personal info needed to view our list or roofers.

Fill out the form below to have up to 5 roofing contractors contact you and submit their written roof estimates.
What makes a Roofer into a great Roofing Contractor?
A great roofing contractor is HONEST and TRUSTWORTHY.

A great roofing company will always present a written roof estimate.

A great roofing contractor will show up when they say they will be there.

A great roofing company will have a safe and positive work area.
A truly great roofing contractor will not take shortcuts when roofing your home.
A great roofing contractor will treat your house like it were his own.
Submit this form to have 5 roofers contact you for roofing quotes.
We have a simple form that you can fill out that we send out to our roofing contractors that work in your area. With our 5 free roofing quotes form we send an email out to our contractors that says we have a home owner that would like a written roofing estimate. Once the contractor accepts the lead we then send them and only them your contact info. Once 5 contractors have accepted the lead we close the lead and no more then those 5 contractors will get your info.
You can also use our search tool to find a local roofing contractor for roof repair services. Using this method we do not take any of your personal info and when you find the roofer you like, just call them.
What will it cost to roof my house?
You can expect to pay $1.5 to $4.50 per square foot for the new asphalt roofing shingles.

A roof tear-off will cost at least $1 per layer and per square foot.

You should expect to pay at least $1.50 to $4.50 per square foot for labor to install the new roofing .

If you have any sheeting that needs replaced figure at least $75 per sheet.

---

Shortcuts to roof repair terms:

Roofer near me- Roof Estimate- Roofing Quotes - Free roof estimate - roofing contractors - install asphalt roofing shingles - repair of asphalt shingles - install presidential roofing shingles - install metal lock seam roofing - repair metal roofing system - cedar shake roofing - repair cedar shake roof - new metal roof - replacement metal roof - replace whole roof - roll roofing - TPO roofing - commercial roof repair - install new commercial roof - roof cleaning - roof repair.

---

Watch out for recovers! They must be done correctly.

A roof recover must be done correctly or you could end up with a roof like the photo below. One of the most important facts is you must have long enough nails or staples to penetrate through the plywood sheeting.

Best Roofing Material and Material Costs

3 Tab Roof Shingles

3 tab roofing shingles are not used much anymore. upgrade to the 30 year shingles. you will be much better off.

Average price installed per square foot is $3.00 to $6.00.

30 year asphalt shingles

30 year shingles are probably the most affordable shingles today. They withstand a good amount of wind and look good.

Average price installed per square foot is $3.50 to $6.50.




50 year asphalt shingles

The 50 year shingle is a great shingle. also known as architectural roofing shingles, these will last up to 50 years and handle the wind great.

Average price installed per square foot is $4.50 to $8.50.

Metal lock seam roofing

Metal lock-seam roofing is a great roofing system. It will run a little more then the 50 year shingles but not much usually. Metal roofing can be noisy while raining. Fire resistant to a point if you are in a forest fire area.

Average price installed per square foot is $7.50 to $9.50.

Concrete tile

Ceramic tile roofing is not a good roofing material for a extremely wet area. It is a good roofing system for a area like Arizona. Cost will be high and the house needs to be engineered to handle the weight of the tiles.

Average price installed per square foot is $6.50 to $13.50.

Cedar shake roofing

Cedar shake roofing is one of the highest maintenance roofing systems around. The roof looks great when maintained. If not maintained it will last 10 to 15 years before it starts to curl and crack.

Average price installed per square foot is $7.50 to $10.50.

Slate roofing

Slate roofing is long lasting, but expensive. Over 100 year life expectancy, slate tiles are low maintenance and look good.

Average price installed per square foot is $200 to $250.

TPO flat roof

TPO is a membrane that is put down over the structure and is welded together (heat gun and glue) it is for flat or commercial buildings.

Average price installed per square foot is $6.00 to $9.50.




Asphalt Shingles Cost By The Square Footage Of Your Roof.

This section is a rough estimate of what your new roof will cost if you live in a 1 story home and the roof has a standard pitch of 6/12 with no dormers, new under lament and new 30 year shingles installed after a tear off.

1200 square feet - $6500 - $7300

1400 square feet - $7100 - $8200

1600 square feet - $8500 - $9350

1800 square feet - $9850 - $10,450

2000 square feet - $10,950 - $11,450

2200 square feet - $11,700 - $12,500

2400 square feet - $13,400 - $13,900

2600 square feet - $14,000 - $14,950







Help with roof repair:

There are many reasons your roof may be leaking. You could have bad rubber seals around your pipe jacks, a worn out valley, missing shingles due to storm damage.

It just may be time for a tear off and new roof.

We recommend contacting a professional roofer to get up on your roof and do an inspection. This will give you peace of mind that your roof will be done properly.

The roofing profession is a dangerous line of work.

We do not suggest anyone other then a professional roofer should be getting up on a roof.




What are some of the most common roofing search phrases?

free roofer quote - free roof estimate - free roof bids - local roofing contractors - local roofer - local roof quote - free roof estimates - new roof quotes - free roofing estimates - free roofer quotes.

Use this directory to connect with contractors from different trades.




Connect with local California roofing companies here